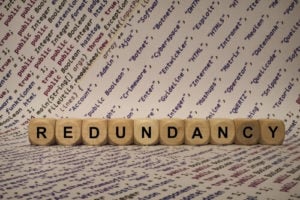 A settlement agreement is a document by which an employee agrees to waive their rights to bring any kind of legal action against their employer.   This is usually in exchange for a sum of money.
Often, a settlement agreement is used in a redundancy situation. However, a settlement agreement is not the same thing as redundancy.
What is a redundancy?
Redundancy is defined by the law.  It usually means that the needs of the employer for work of a particular type has ceased or diminished. Effectively, the employer does not need as many staff as it used to.
Alternatively, it can mean that the employer is closing a workplace and the staff who work there will be asked to move to a different location. If they are unable to do so (for example, because it's too far to travel), then they may be made redundant.
If an employer is in a redundancy situation, it must go through a fair redundancy procedure before deciding which staff to make redundant.  This would at least include:
consultation with affected employees,
consideration of alternative employment for those employees and
the right to appeal.
This can be a time consuming and unsettling process for an employer, as well as the workforce.  Often an employer will offer staff a settlement agreement as an alternative to going through the redundancy procedure.
Is it fair to offer the settlement agreement instead of redundancy?
There is nothing wrong with this in principle.
The employee does not have to accept the settlement agreement.  If they refuse it, the employer can still go through the redundancy procedure and the employee may want to take advice on whether it has been done fairly or whether they could claim compensation in an employment tribunal for unfair dismissal.
However, the employee may prefer to accept the settlement agreement because it usually contains an offer to pay more money than they would receive if their employment was terminated following a standard redundancy procedure.
Accepting the settlement agreement would mean you wouldn't be able to claim compensation in an employment tribunal. You would need to consider whether the amount being offered by your employer is adequate. If it's not, there may be scope for negotiation.
However, refusing a settlement agreement in order to try to claim more compensation in an employment tribunal is risky. I have previously written about why a settlement agreement is often (but not always) preferable to a tribunal claim.
The incentive for the employer to pay more money to the employee is that the employer avoids having to go through the redundancy procedure.  The incentive for the employee is the extra compensation they will receive.
Can settlement agreements be used in any other situations?
Settlement agreements can be used in almost any employment related situation – not just redundancy.
For example, sometimes there is a breakdown of relations between an employer and an employee.  It's not necessarily either party's fault.  It has simply become very difficult for them to work together.  Often a settlement agreement is the best way to resolve a situation.
Sometimes, where an employee is subject to disciplinary proceedings, the employer will offer the employee a settlement agreement as a way of bringing the employment to an end without the unpleasantness of a dismissal.
Contact Us For Advice on Your Settlement Agreement
If you have received an offer of a settlement agreement, you will need to make sure you receive legal advice on it.
We advise clients throughout the UK. We provide clear and prompt advice on a confidential basis.
Call us now for a free consultation.
From a landline: 0800 531 6050
From a mobile: 0330 333 6050
Alternatively, complete the form below and we'll contact you.
Contact Us for a Free Consultation
If you would like a free consultation about your settlement agreement, complete the form below and we'll give you a call.