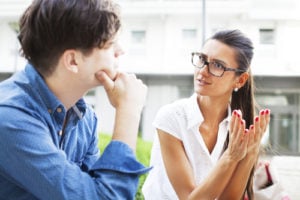 An employment relationship can sometimes go sour. It may be in the best interests of both parties to bring the employment to an end by way of a settlement agreement.
Often, the best way to start that process is by having a protected conversation.
What is a protected conversation?
The law allows an employer and an employee to have an 'off-the-record' conversation in certain circumstances.
If you or your employer are proposing to end your employment on agreed terms, the conversation can be kept confidential. This means that what you say can't be used as evidence in an unfair dismissal claim. Although there are some exceptions, generally the conversation is protected.
What should you do if your employer asks to have a protected conversation?
If you're invited to have a protected conversation with your employer, make sure you prepare in advance. You need as much information as possible. You may find it helpful to ask questions like:
why is your employer proposing to terminate your employment?
how much are you being offered and how is that calculated?
will you be expected to work your notice period?
will you be offered a reference?
what is the alternative if you don't agree to a settlement agreement?
You're not under any obligation to accept any proposed settlement agreement. In fact, the law doesn't allow you to accept it until you've taken legal advice on it.
Ask your employer to confirm the proposal in writing. This could be a draft settlement agreement or simply a letter or email. This will help you to clarify what is being offered.
Can you initiate a protected conversation yourself?
Although a protected conversation is usually initiated by the employer, an employee can also request one, provided that it is with a view to agreeing a settlement agreement.
Ask your employer if they're willing to have an off the record conversation. Let them know that the details of the conversation should be kept confidential because it's with a view to reaching a settlement agreement.
If your employer isn't familiar with the principle of protected conversations, you may want to refer them to the ACAS Guide to Settlement Agreements, which gives them all the information they need.
At the meeting, you could propose a settlement agreement yourself or you could ask your employer to make an offer.
Although the most important aspect of a settlement agreement is usually the financial amount, you should consider non-monetary aspects such as:
a detailed reference
outplacement support (professional help with finding another job)
release from anything in your employment contract that restricts you after the end of your employment
What happens next?
Your employer should give you a reasonable period of time to consider any proposed settlement agreement. ACAS recommends 10 days, although employers rarely give this long in practice.
We recommend that you speak to a solicitor at an early stage. There may well be scope for negotiating a better settlement agreement.
Need help negotiating a settlement agreement?
In previous articles, I've offered some tips on how to negotiate a good settlement and some of the pitfalls to avoid.
You may want to do the negotiations yourself but if you do want help from a solicitor, feel free to give us a call for a free consultation. We advise clients throughout the UK.
From a landline: 0800 531 6050
From a mobile: 0330 333 6050
Alternatively, complete the form below and we'll contact you.
Contact Us for a Free Consultation
If you would like a free consultation about your settlement agreement, complete the form below and we'll give you a call.