We are a firm of solicitors, providing legal advice to individuals and businesses.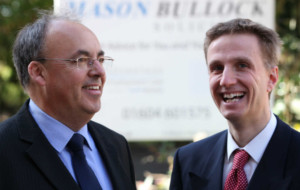 The firm was founded in 1991 by Ian Mason and Mike Bullock, originally to provide legal advice to small businesses. We left our office in Northampton in December 2016 and now provide legal services by telephone and email.
Mike left the partnership in 1997 when he moved to South Africa with his wife. In 2002, Andrew Crisp joined the practice. He became a partner with Ian in 2006.
In this digital age, we can deal with many clients by telephone and email, which most people find more convenient. It also means that we can serve clients around the UK.
Our registered office is in Coventry.
Our Team
At Mason Bullock, our team are here to help you. Click on the photos below to find out more about each team member.
Partners

Management
Vanessa Smith

Accounts Manager
Support Staff

Information we have to tell you…
In accordance with the disclosure requirements of the Provision of Services Regulations 2009, our professional indemnity insurer is Zurich Insurance plc. Address: Zurich Professional & Financial Lines, The London Underwriting Centre, 3 Minster Court, Mincing Lane, London EC3R 7DD. The territorial coverage of our policy is worldwide.
The following additional information is provided in accordance the Electronic Commerce (EC Directive) Regulations 2002:-
The partners at Mason Bullock Solicitors and Ian Mason and Andrew Crisp. Both Ian and Andrew are registered as solicitors of the Supreme Court in England and Wales.
Mason Bullock Solicitors is authorised and regulated by the Solicitors Regulation Authority. The code of conduct can be accessed by clicking here. Our SRA Number is 74200.
We hope you'll never need to make a complaint about our service but if you do need information about our complaints procedure, click here.
Our VAT Registration Number is: 581 2132 65